It looks like I haven't updated my blog for a while. My most recent release is Phoenix Rising: Star Racer and Rogues, Book 2. You can see the amazing cover from Bookable Covers below: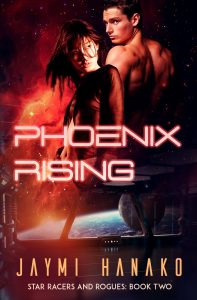 Blurb:
He broke her heart. Now his life is in her hands…
For Dr. Elisa Nakano, the prospect of joining Project Phoenix is a double-edged sword. The secret experiment crosses the line between life and death by resurrecting someone from a fatal accident. In this case, the patient is the man who broke her heart: asteroid racing ace Dante Goshawk. She'll work to restore him to life, but is determined to keep her distance. He's her patient now. Nothing more.
Asteroid racing was a young man's game. A single man's game. Dante Goshawk wanted to avoid attachments at all costs, so when his passionate affair with a brilliant scientist became too intense, he broke it off. Now that he's back from the dead, he realizes the woman he pushed away is the only one he's ever loved. But Elisa isn't so eager to give him another chance.
The clock is ticking on Dante's recovery. A new experiment, an android pilot designed for the asteroid racing circuit, needs his memories and his consciousness to make it complete. And some are willing to kill–again–to make the technological leap a reality.
Click on this page here to find out more.
Also, I don't know if everyone has heard the news about the publisher Loose Id, who will be closing later this year. They put out my first two books, Bonded and The Queen's Assassin. The publishing contract on Bonded expired last year. The contract for The Queen's Assassin expired earlier this month. The current plan is to revise and update both stories for self-publishing and they will be available again as soon as that is done and I have new cover art for them.
I've also written a short story called "Rebel Wedding." Yes, it features Ty and Malkyn from Rebel Run, and will give readers a sneak peek at the planned events in book 3 of the series, which is tentatively titled: The Changeling vs. the King. It will be available for free to everyone who subscribes to my newsletter.