Several years ago, I published this fantasy romance with Loose Id. Sadly, the publishing company shut down, but I have the rights back on this story and have been eager to get it ready to share with everyone once more. I did some light revisions, especially to the ending, and of course, I had to get a new cover.
I know I shouldn't have favorites, but I have a special place in my heart for the hero of this story, Madoc. I hope you all enjoy meeting him as much as I enjoyed writing about him!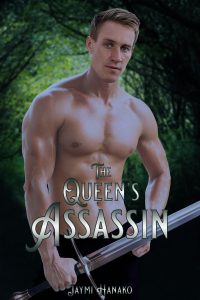 Killing was his life. Then he met the one woman he could not destroy…
It was supposed to be an easy job. Get in, assassinate the queen, and get out. Things didn't go as planned and now Madoc is chained in the royal dungeon, fighting his unwelcome attraction to the woman who defeated him: the queen's bodyguard, Raine. When she interrogates him, he propositions her: He'll tell her what he knows if she'll spend one night of passion with him.
Deception and deceit have kept her alive. Yet one man tempts her to lower her guard…
Raine isn't just a bodyguard, she's the queen hiding behind an enchanted disguise. Turmoil over the succession has threatened her country for years. Her priorities should be to find herself a proper consort and ensure the continuation of her line. She shouldn't be charmed by a deadly assassin with a sharp tongue and a sharper wit, no matter how her body burns for his…
One night will never be enough for either of them, but the shadowy conspiracy that looms over Raine's throne hasn't ended. She'll need magic—and all the power of her unlikely connection with her would-be killer—to keep what is hers.
Buy Links: Amazon Apple Barnes & Noble Kobo Google Play Smashwords